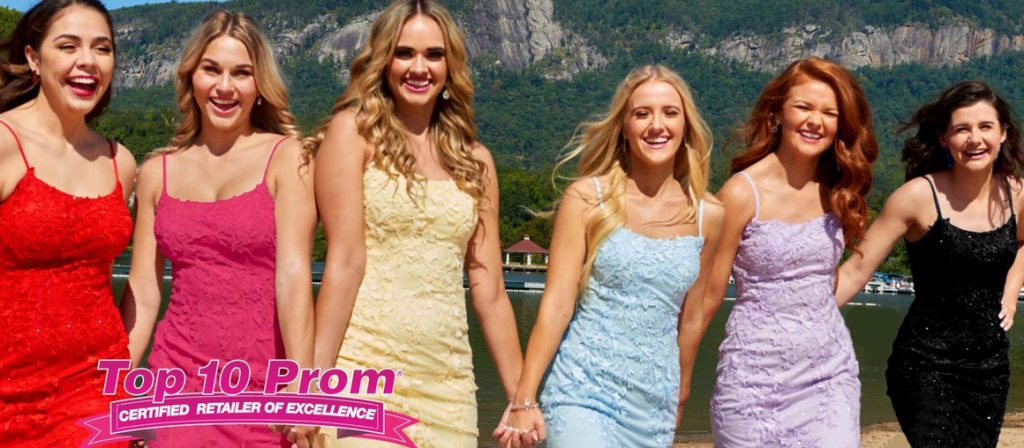 Long Prom Dresses are at Christine's Bridal! We offer Vermont & NH's BEST Collection of Affordable Long Prom Dresses.
Are you looking for a show-stopping collection of long prom dresses? If long prom dresses are just the fit for you, browse our large selection of elegant looks, and find the perfect long prom gown for your 2024 prom or formal event. Click on any image below to start the slide show of prom dresses, available at Christine's Bridal & Prom.
At Glitter Prom and Christine's Bridal, you will find many long prom dresses and gowns that include your favorite design elements. We offer strapless dresses, halter style dresses, celebrity looks, low V-neck styles, mermaid style gowns, and even one shoulder styles! Maybe you are looking for a prom dress with a great open back, or sexy sequins? You will find it here as well! Make your appointment today!
A long prom dress makes an elegant statement at any formal event whether it is prom, a formal dance or wedding. Our elegant dresses are priced to fit every budget. The prom dress collection is offered in size 0 – 18, and plus sizes 20 – 42W! Glitter Prom® is located at Christine's Bridal, exit 9 Off I-91, in Hartland Four Corners, Vermont. We are just 15 minutes from Lebanon, NH and Claremont, NH, and are an easy drive from Burlington, VT or Manchester, NH. Appointments are recommended, for the best service, and to reserve a fitting room. Our shops are closed Sunday thru Monday. Images shown in our collection online are just a small sample of our inventory.
It's Almost Time!
Prom 2024 is approaching fast and Christine's Bridal and Prom is ready! If you are looking for VT and NH's BEST selection of long prom dresses, than look no further! Our selection includes everything from Cinderella-like ball gowns to form fitting mermaid styles. Maybe you want a strapless ball gown that make you feel like a princess, or choose from our one-of-a-kind breathtaking dresses that include crystals or thigh-high slits.
Whatever your style, absolute glamour is the first priority for our customers! Our signature style of glamour and elegance mixes just the right amount of fun for the party of the season! From fun and flirty designs in colors that punch, to breathtaking styles that take more subtle colors like black and royal blue to the next level, Christine's Bridal and Prom is making every girl's dream of owning an amazing prom gown a reality for Prom 2024!
We are New England's best choice for evening wear, and are excited to debut our 2024 prom dress collection. From homecoming to pageant to prom gowns, the designers at Christine's Bridal and Prom have developed a selection of gowns that work for all women. We offer our gowns in sizes 0-42W, and have we also have the area's best selection of plus size wedding gowns and prom looks in Vermont and New Hampshire! Our fashions can be seen on the dance floor at formal events and weddings throughout New England!
This season expect some of the hottest trends to hit the runway for spring including lace, two piece looks, sequins, dynamic beading and appliqué work. With these amazing designs, Christine's Bridal and Prom is letting every girl enjoy her prom as if she were on the red carpet. If you aren't excited for Prom 2024 yet, get ready for the best prom collection ever!
Prom Dresses Are Our Favorite Collections!
Christine's Bridal and Prom features prom dresses with all of the latest trends. Chunky stones, gorgeous prints, and bright solids are some of the trends that the 2024 collection includes. Our gowns have always been gorgeous, but this year we have has stepped up our game! We offer a collection of bright ballgowns, sophisticated solids, and cute cocktail dresses that have become the #1 collection for prom in VT and NH! Swirling prints and dramatic back details are also hot for the prom 2024 collection. Two piece gowns are the hottest new trend and have been seen on many Celebrities and Red Carpets all over the world. You too can look like a star in a our dresses!
We guarantee that you'll look and feel like the belle of the ball when you arrive in style in a prom dress from Christine's Bridal and Prom! Did you know that prom dresses no longer have to be long dresses, but that they can also be short prom dresses? Our cocktail dresses are perfect for Prom and Junior Prom events. Our short dresses come in many different styles, from fun short ballgowns to straight and sleek silhouettes. We have a style to fit every personality. If you prefer more of an edgier look, we have cutting edge styles as well. Choose a dress with zipper details or animal prints and you can rock out in it all night long!
What Is Your Style?
You have dreamed of your prom for years. Maybe you have rehearsed every detail. How to style your hair. Who is your perfect date? Where will you go out to dinner? But more than anything, what is the prom look to make you stand out and feel special? Only you know the answers, but we have the looks to make your dreams come true!
We offer a premiere collection of prom dresses that are sexy, sophisticated, glamorous, and edgy. You'll look more beautiful than you ever imagined. So whether you choose from our beautiful long prom dresses, or one of our amazing short looks, you can let you imagination run wild! Some of our favorite prom dresses are very beautiful, puffy ball gowns. Need more options? How about a sleek open back look, or a one shoulder look? 2024 prom dresses include bright, trending colors such as Blue, Royal Blue, Red, Fuchsia, Turquoise, Coral, Black and Purple. Trends show that sexy gowns and embellished dresses will be also be big for Prom 2024, and simple, classic prom dresses will never go out of style!
What's the prom dress of your dreams? How about a sleek red prom gown? Or a vibrant green prom dress that will make everyone else green with envy? Christine's Bridal and Prom has them all. All you add is you!
Save
Save
Save